Telomere Length Test for Mouse Blood
Telomere Length Test for Mouse Blood
Inquiry
Telomeres are generally shorter in mice than human telomeres and range from 4-11 kilobases in length. Telomere length in mouse blood cells is known to be affected by aging, stress, and exercise. CD BioSciences can provide telomere length measurements for mouse blood, which allow researchers to gain more knowledge about other fundamental issues in the biology of aging.
Why Study Telomere Length in Mouse Blood?
Telomere length testing is usually performed using a blood sample. This can be used to predict a person's risk of developing certain diseases. It can also be used to measure the impact of lifestyle and environmental factors on a person's health. Most studies conducted to date have primarily used mice as models of aging in a quest to understand the link between telomeres and aging and longevity in humans.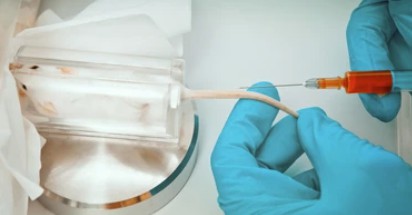 Fig. 1 Take blood from the mouse tail vein.
Therefore, telomere measurement for blood samples in mouse models is one of the key steps in conducting various studies.
Our Services
CD BioSciences is a leading provider of telomere measurement services with a focus on aging research. We can provide you with telomere length analysis services of the best quality and at the most competitive prices.
Our service is designed to directly measure the average telomere length of mouse blood by identifying and amplifying telomere sequences with a telomere primer set. A reference genomic DNA sample with known telomere length is used as a reference for calculating telomere length in the target sample.
We offer the following telomere length analyses for your scientific research.
Preparation of blood samples from mice
Preparation of DNA samples from mouse blood
Optimization of qPCR protocols
Perform qPCR
Data analysis
Our service features:
High accuracy and sensitivity
Fast turnaround time
Competitive pricing
Applications
Allow you to learn and track the age of your mouse blood cells based on telomere length.
Help explore the association of telomeres with increased risk of age-related disease and death.
Learn how genetics, lifestyle, environment, and other factors affect telomere length.
How to Order Our Services?
Order. Order telomere testing services. You can collect blood samples or DNA samples from any mouse sample, mail the samples to us, and we will arrange testing services for you worldwide.
Test. We will sequence your sample to reveal the telomere length status of the sample, which will help reveal the biological age of the sample.
Analyze. Our telomere length report will include what you want to choose to discover, which further can be translated into clear solutions to optimize health.
It can be difficult to obtain accurate results from telomere testing. However, CD BioSciences is the service provider you can trust to perform the perfect telomere test. With the proper procedures, our technicians will provide you with accurate results from your telomere test.
Please join us to learn about telomeres and the accuracy of telomere testing. For service requests and project proposals, please contact us.
Our services are for research use only and not for any clinical use.
Services

We are a comprehensive technology platform company integrating aging DNA methylation, telomere, transcriptome, proteome, and metabolome research.